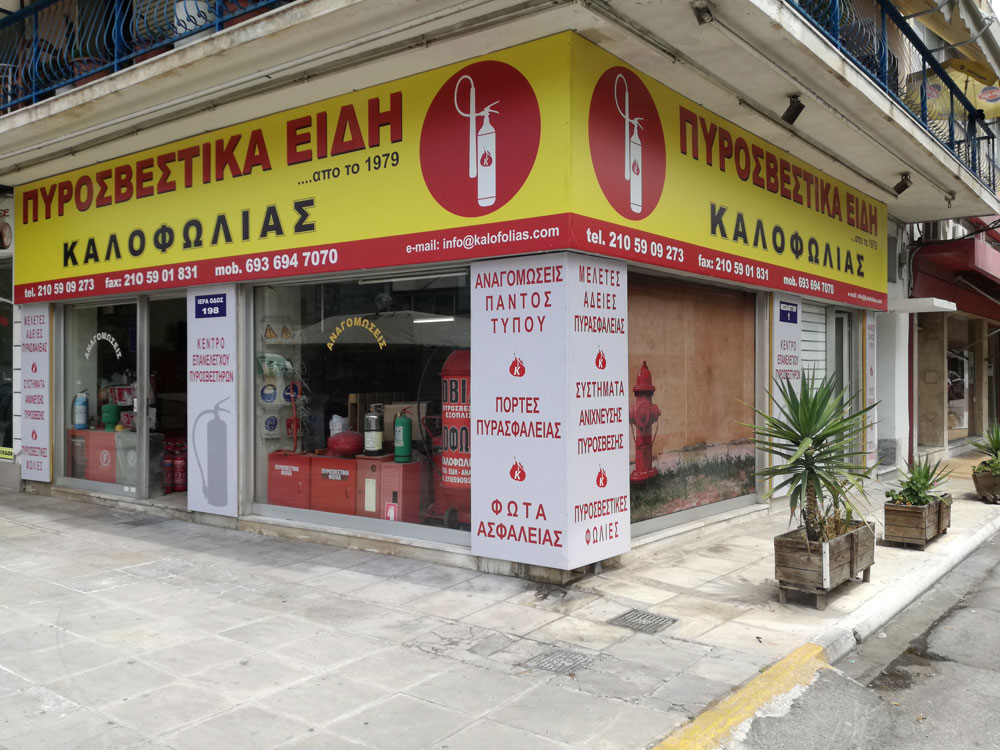 KALOFOLIAS AR.DIMITRIOS
Company profile
The company KALOFOLIAS AR. DIMITRIOS has been active in the field of fire-fighting equipment for the last 38 years. After stubborn organization and scheduling, the company managed to serve a significant number of customers in the domestic market.
The company was founded in 1979 as a private company by Kalofolias Aristomenis. The main activities were the trade and maintenance of fire-fighting equipment. In 1985, it was transformed into a general partnership under the name of Kalofolias Bros and moved to the 198, Iera Odos, Aigaleo, where it is based until today. In 2011, the new generation takes over the management, with the supervision of the seniors. The appetite of the young and the experience of the older ones, upgrades the company to a fire extinguisher re-testing center with a private hydraulic test laboratory. Today, the company operates with the coordination of Dimitrios Kalofolias and with the combination of its well-trained staff has expanded the operations and is able to cover all kinds of fire detectionprotection systems as well as fire safety studies.
In September 2017, for the first time the company joins the "e-market" with the founding of its own e-shop, www.kalofolias.com.
Furthermore, an important achievement is the acquisition of the ISO 9001:2015 which is expected in November of 2017. Another significant certification body which inspects our operations is the BUREAU VERITAS which every year certifies us, as a proper re-testing center for the foreseen and legal procedures that we follow.
Our company promises for exceptional quality services. We believe in building faith and respect between our clients and us, to function with honesty and according to the business ethics. Our goal is to maintain and expand our good reputation in the field of fire fighting, to improve our work and staff day after day and keep long term relationships with our customers.




Ολοκληρωμένες παραγγελίες